Queen-Esther Ode
Team Member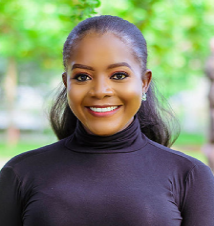 Areas of Expertise
Business Development Professional

Project Manager

Women Deliver Young Leader

Women-Girl Advocate

Passionate Volunteer
Education
Master's degree in Economics

ISO 26000 Social Responsibility Foundation Practitioner
Queen-Esther Ode is a highly productive business development professional with a Master's degree in Economics from the World Bank Africa Ace Centre of Excellence, Centre for Food Technology and Research, Benue State University, and a Member of the Institute of Management Consultants, Nigeria. She is also an ISO 26000 Social Responsibility Foundation Practitioner.
As former Programmes Officer for New Idea Management Consultants, she project-managed fellowship induction programmes from planning to execution in three states of Nigeria, was part of the team that created a functional and organizational re-alignment plan for the Nigerian Communications Commission (NCC). She also optimised the company's cost, improved organizational effectiveness and employee productivity by automating data gathering and analysis processes. Currently, she is the Programmes Coordinator for the International Network for Corporate Social Responsibility (IN-CSR) and has worked with the team that reviewed and redrafted the National Action Plan (NAP) on Business and Human Rights. She also coordinates the planning and implementation of trainings/awareness programmes on Corporate Sustainability and Responsibility (CS&R), Corporate Human Rights, and Environmental, Social and Governance (ESG) Due Diligence.
Queen-Esther is a Women Deliver Young Leader, contributing her quota towards achieving gender equality and advocating for the rights of women and girls. She is also a volunteer head at the Nigerian Women Trust fund working towards ending violence against women and girls.
contact details
105 Kunle Akinosi Street, Off Oshodi - Apapa Expressway, Oshodi Isolo, Lagos, Nigeria
feedback form
If you'd like a free consultation, please start by completing the form: