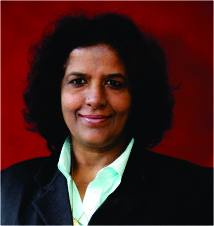 Areas of Expertise
Sustainability CSR Reporting
Business transformation
Restructuring and turnaround
Auditing
Sustainability strategy
Education
Certification
    Certified Lead Auditor
Lata Iyer is a certified SA 8000 Advanced Auditor and an established Practitioner and Consultant on Sustainability / Corporate Social Responsibility (CSR). She has been in the field for over 15 years and has worked in several parts of the developing world. She joined the profession at a time the entire corporate world in the west was grappling with the vexing task of monitoring the burgeoning manufacturing sector in China.
Working for CSCC, Los Angeles (now Specialized Technology Resources, Inc.), a leading global provider of socially responsible supply chain consulting services, she had a rich exposure and learned about Sustainability Standards and best practices.
Lata has monitored and conducted audits in 30 plus countries alongside some the best in the industry. She is presently on freelance with Arche Advisors USA and IN-CSR Africa working on reporting and assurance, supply chain management and monitoring, sustainability engagements around Africa and Asia. She is regularly invited to speak on Sustainability and CSR and was recently the keynote speaker at the MS University, a leading educational institution in India.
contact details
105 Kunle Akinosi Street, Off Oshodi - Apapa Expressway, Oshodi Isolo, Lagos, Nigeria
feedback form
If you'd like a free consultation, please start by completing the form: