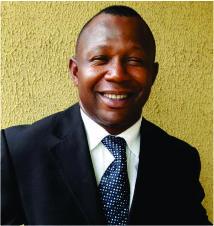 Areas of Expertise
Advocacy and Public Policy

Business transformation

Restructuring and turnaround

CSR Reporting

Sustainability CSR Audit

Research

Corporate Human Rights
Strength
L LM, International Human Rights Law, Birmingham City University, United Kingdom
B IBM, International Business and Management, Amsterdam School of Business, the Netherlands
B Sc, Marketing, Abia State University, Uturu
Certification
Eustace Onuegbu is one of Nigeria's leading management consultants, a member of the United Nations Major Group on Business and Industry and a member of the United Nations Advisory Group on Business and Human Rights. He is an expert in sustainability strategies, training and implementation using both national and international platforms such as Nigerian Sustainable Banking Principles (NSBP), the Consumer Protection Framework, the Governance Code, the Nigerian Stock Exchange Sustainability Disclosure Guidelines, ISO 26000, 14001, 45001 Standards, IEMA and SA 8000 Platforms, the Extractive Industry Transparency Initiative (EITI), the G20 High Level Principles, IFC Guidelines, the World Bank Good Practice Guidelines, The Four Pillars of Consumer Protection, etc. His management audits are benchmarked on world's most accepted sustainability auditing platforms – SA 8000, ISO 14001 and 45001 while sustainability reports are usually based on GRI Standards except when specifically required on other platforms such as the CBN standard reporting guidelines.
Eustace is a certified Management Consultant by the International Council of Management Consulting Institutes (ICMCI) Switzerland; a Professional Evaluation and Certification Board (PECB) certified ISO 26000 Social Responsibility and ISO 45001 Occupational Health and Safety Lead Implementer, Auditor and Facilitator, and a Distinguished Fellow of the Institute of Management Consultants (IMC), Nigeria. He is presently serving as the President of International Network for Corporate Social Responsibility (INCSR).
Eustace is the initiator and host of the International Conferences on Business and Human Rights and has worked with leading organisations such as Zenith Bank PLC, Centre for International Governance and Innovation (CIGI) Canada; Central Bank of Nigeria, Voices4Change/UKAID, University of Lagos Nigeria; The Federal House of Representatives, Abuja; Oil and Gas Free Zones Authority, Green Energy International, the National Human Rights Commission of Nigeria among others on Sustainable Development including Sustainable Banking, Consumer Protection and Financial Inclusion, Corporate Sustainability and Responsibility, and Corporate Governance. Eustace has also made several representations to the international community including the United Nations, African Union, ECOWAS, and The Senate of Federal Republic of Nigeria on a wide range of environmental and social impact issues.
Eustace is an avid advocate of instituting global best practices in the conduct of Corporate Sustainability and Responsibility (CSR) in Africa. He holds a degree in Marketing from Abia State University in Nigeria, another in International Business and Management from Amsterdam School of Business, The Netherlands and a post graduate degree in International Human Rights Law from Birmingham City University in the United Kingdom.
For further information, please contact our admin office
International Network for Corporate Social Responsibility (IN-CSR)
105 Kunle Akinosi Street,
Off Oshodi – Apapa Expressway
Lagos, Nigeria 
+234 (0) 81 086 104 73; 81 718 614 82     eustace@incsr.org l www.incsr.org
contact details
105 Kunle Akinosi Street, Off Oshodi - Apapa Expressway, Oshodi Isolo, Lagos, Nigeria
feedback form
If you'd like a free consultation, please start by completing the form: